In June this year I joined Lucy from Balmonds Skincare at ITN studies to take part in a video with the British Skin Foundation called Skin: Below the Surface, hosted by Louise Minchin. You can watch the Balmonds clip here:
The short film explores the importance of having choice in your own skin care, agency to follow a natural healing path, representation of different skin types, colours and conditions and the mental health challenges. To watch the whole film visit The British Skin Foundation Website.
Why choice and agency matters in eczema skin care
1. Choice matters: giving those living with chronic skin conditions a real choice in what they use to keep their skin in good condition is really important, not just to their physical but also emotional well-being.
In the interview with host Louise Minchin, Balmonds brand ambassador and award-winning writer on eczema and allergies, Ruth Holroyd, explains how important it is to her to be able to use natural products that don't irritate her skin further and feel good to use; she highlights how Balmonds products are not just highly effective for keeping her skin moisturised, but are nice to use in a way that many standard paraffin-based creams aren't – she talks of it as a kind of empowering self-care.
Importance of representation of skin differences and colours
We talked about how emotionally painful it can be to live with eczema, and how vital it is for us to see all kinds of different tones and types of skin represented by brands, not just unattainable flawless perfection.
The Balmonds brand proactively amplify the voices of those with chronic skin conditions, and always strive represent real people with real skin on their marketing materials. Their new website has done just that – it was an absolute thrill to take part in their latest photoshoot of real skin models for their website.
The acclaimed photographer Sophie Mayanne who runs the Behind The Scars project, was the perfect choise. Her unfiltered photos show Balmonds customers living with various different skin conditions.
If you'd asked me last year whether I'd be modelling for a skincare brand I'd have laughed in your face.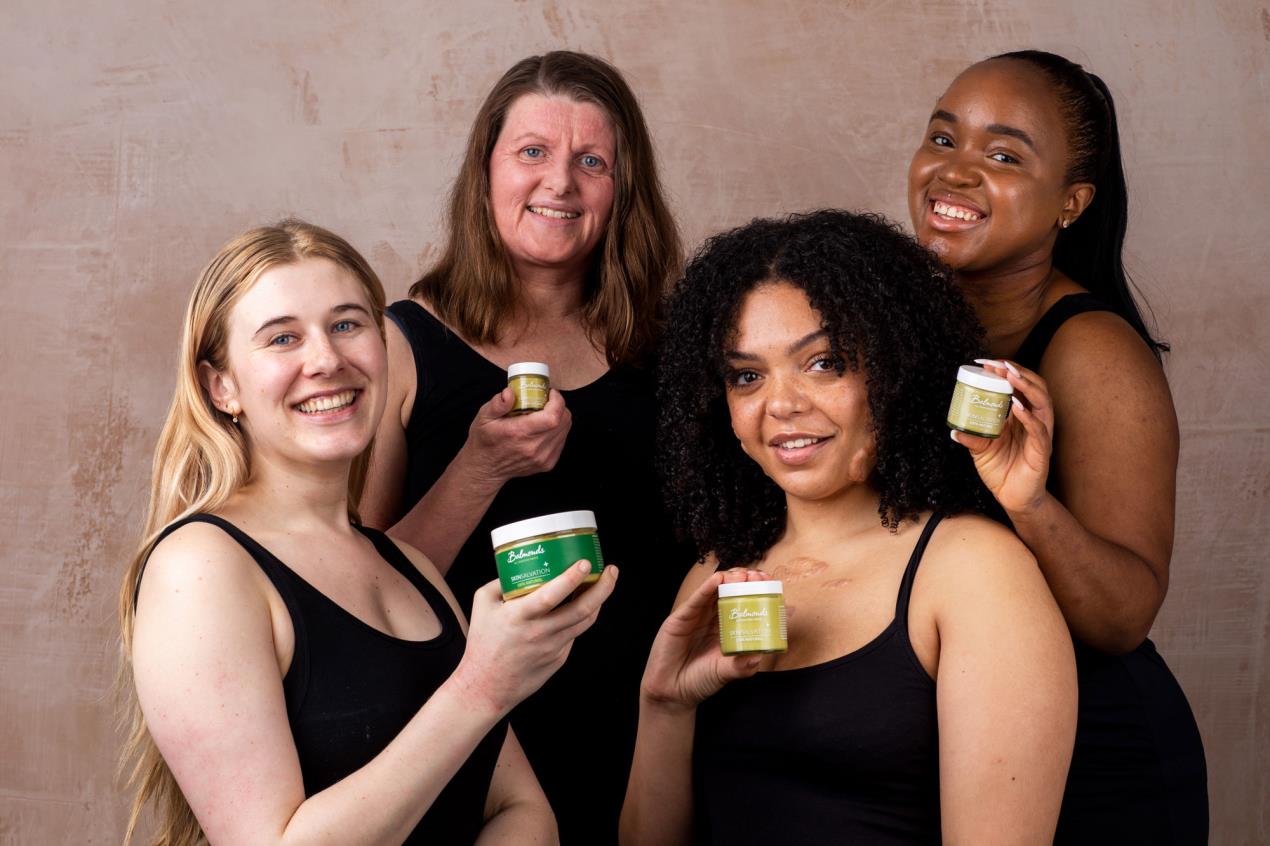 Addressing the psychological effects of chronic skin conditions
The programme took an in-depth view into the psychological effects of living with a skin condition and highlights how there can be much more to living with one than what's on the surface. Exploring personal stories, innovation and research into the area and why there is a need now more than ever to understand the connection between the mind and the skin.The full programme is hosted on the British Skin Foundation website.
'Skin: Below the Surface will amplify patient voices and create awareness around the psychological impact of skin conditions. 60% of the UK population currently suffer, or have suffered, from a skin condition and the research showing the impact on emotional wellbeing is clear. Whilst often overlooked as a cosmetic issue, we know the enormity of the impact skin conditions can have on mental health.' Kelly Taylor from The British Skin Foundation
"Having sensitive skin can really affect every aspect of your life…  Finding natural products like Balmonds to help me maintain that, rather than these big tubs of lardy, greasy stuff, it's like a bit of self care, something nice on my skin, that is promoting healing as well as moisturising and soothing." Ruth Holroyd, award-winning blogger, WhatAllergy.com
Why try Balmonds skin care range?
Balmonds hero balm, Skin Salvation, has been put through numerous tests and trials to ensure its suitability for people with sensitive or allergy-prone skin:
Dermatologist approved
Paediatrician approved
Dermatologically tested as suitable for those with sensitive skin
Dermatologically tested as suitable for those with atopic skin
SAMPLES AVAILABLE: please get in touch with Lucy on lucy@balmonds.com if you'd like to request samples. And use my code, WHATALLERGY for 20% off everything you buy from Balmonds.
You may also be interested in reading: